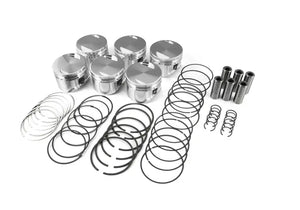 M20 CP-Carrillo Forged Piston Set
Regular price $1,396.00 Sale
CP-Carrillo high performance forged piston set for M20 engines with 885 cylinder head casting. After years of experience and extensively testing forged piston sets from various manufacturers, it's clear to us that CP is the ultimate choice. Piston quality matters! 
Available in multiple options to suit your needs. This set includes: pistons, piston rings, wrist pins, and wrist pin clips. The standard compression ratio offered is 10:1. If you wish to specify your own compression ratio, please do so in the order notes during the checkout process.
Optional turbo upgrade includes heavy duty piston castings and heavy duty piston rings for boosted applications.
Please expect 8-10 weeks production time for all sets not in stock. All sales are final and no cancellations are allowed.
Please contact for custom orders!